Events to Go
Go-Live ceremony of Sidat Hyder ERP at ChildLife Foundation
We have achieved another milestone by successfully implementing the Sidat Hyder ERP at ChildLife Foundation, a non-profit organization that treats more than a million children every year.

Sidat Hyder has automated the Financial and Supply Chain departments to provide actionable insights for better decision making and optimize warehouse management.

The integration between #sidathydererp and the hospital management system made it easier to control/reconcile medicine consumption at every unit. The Donation Management System helps to create trustworthy stewardship with the donors that nurture long-term relationships and sustained support over time. Dr. Ahson Rabbani, CEO at ChildLife Foundation, and Mr. Mohsin Ali, Director of Finance, were also in attendance.
#erpsolutions #businessapplications #businessoperations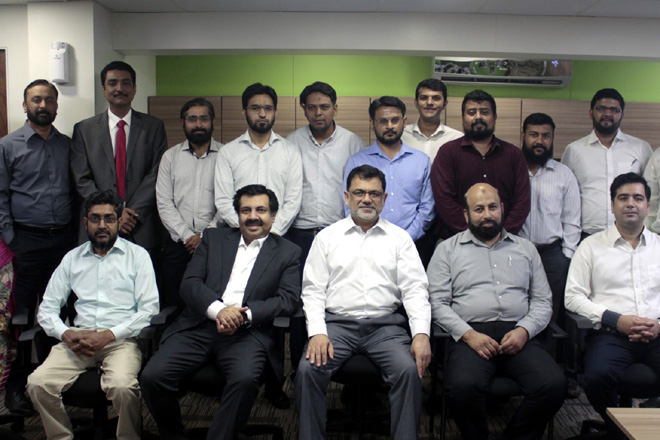 Mr. Ahson Rabbani (CEO ChildLife Foundation) with Mr. Tahir Ali (Director iST) and Mr. Imran Rais (Director iST) at the project Go-Live ceremony
ERP Conference 2020
We, the iST Corporate Performance Consultants, participated in the "ERP Conference 2020". We are thankful to the guests who visited our booth and showed interest in our products and services.

iST is a business consulting and IT outsourcing company that is here to endure the burden of your Enterprise core business operations with proven domain knowledge, functionality, scalability, and reliability. We are driven by a passion to help our clients build a robust, more agile, and more innovative business. We have a team of dedicated professionals with an average experience of almost 10 years in business and IT consulting. iST provides a cost-effective Sidat Hyder Suite of ERP application that is successfully implemented in diversified industries.
Having vast experience in different verticals and with over and above 600 plus installations based countrywide, we strongly believe that our ERP solution can meet your Company's requirements and can also be tailored to suit additional needs.
GITEX 2019, 39th Gitex Technology Week 2019


We had a great time at #gitex2019 #gitextechnologyweek, we hope you all did too!

We are thankful for meeting so many business-oriented people, prospective clients, and fellow consultants, not to mention all the insightful conversations with the visitors and their reactions from all over the world. Over 1000 of our cards and 700 flyers have been given away, got some great new opportunities to look forward to!!

#erpsolutions #businessapplications #projectmanagement #businessoperations